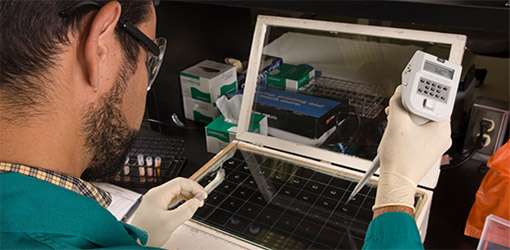 When a veterinarian is called for a farm visit in response to unusual behaviors or signs in animals, it may be necessary to take blood, swabs, and other samples for diagnostics, to determine the cause and appropriate treatment for the animal(s). With contagious diseases (those that can be transmitted from animal-to-animal and animal-to-people), obtaining a diagnosis is especially important to prevent further spread of an infectious disease agent. If feed or water contamination is a possibility, samples from the sources should also be evaluated.
If the veterinarian suspects a foreign animal disease (FAD), a call to the state veterinarian and the USDA APHIS area veterinarian in charge (AVIC) is required. A veterinarian who is a foreign animal disease diagnostician (FADD), specially trained in recognizing and sampling animals for FAD, will come to the farm and take more samples, free of charge. These samples are sent to a special USDA laboratory for testing. Proper animal identification is crucial for matching samples with the correct individual animals.
While samples taken by the veterinarian(s) are transported and tested at a diagnostic laboratory, the veterinarian(s) may tell the farmer to isolate affected animals. The feasibility of isolation depends upon the species and premises layout, and can be decided with a veterinarian. Isolation can prevent exposure of healthy animals to the infectious agent during a contagious disease outbreak.
In cases where a FAD is not suspected, the time for test results can range from several hours (if a quick test at the veterinarian's clinic is possible), to days (if shipping samples to a diagnostic laboratory is necessary, including time needed for testing and reporting results). During this time, communication with the veterinarian about any new cases and follow-up on current cases is important to a thorough response.
If a FAD is suspected, sample testing will be expedited by USDA APHIS. A stop movement of animals on and off the farm may be ordered until diagnostic results are available. A review of animal transportation onto and off the premises (as well as other farm records) may also be needed. Examination of a farm's records is not meant to invade privacy, but rather to provide a complete picture of animal movement and potential disease spread.
---