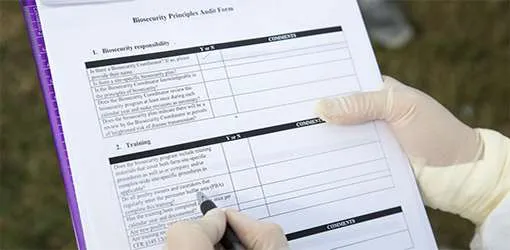 Biosecurity is an essential part of maintaining your herd's health as well as the profitability of your operation. An overall biosecurity plan for your farm is essential. Even if you practice some biosecurity measures now, this plan is needed to make your farm as safe from disease as possible.
A plan will allow you to determine the measures needed to set up a comprehensive biosecurity program to protect your herd in the best way possible. Development of this plan involves all partners and employees, and it must be written down. Each year, the plan should be reviewed and updated to keep it current. For the plan to be effective, everyone must be able to understand it, use it and enforce it. The plan should apply to everyone, every day.
To design your plan, first consider the ways that common diseases are spread. Include a standard health protocol which documents procedures necessary for maintaining animal health and husbandry, as well as specific methods to identify, separate and treat sick animals.
Plan Basics
Start a biosecurity plan by asssessing your potential risks for diseases, and gather information about the farm and livestock you raise.

There are many biosecurity plan templates that will assist with organizing information, and the plan layout presented here is a good start for doing that.
During a Disease Emergency
A biosecurity plan is also useful for building a preemptive strategy for what to do during an on-farm emergency or crisis. A livestock disease emergency could include an outbreak of a reportable or foreign animal disease (FAD).
Structure the plan for routine, every day biosecurity procedures, and then how the routine would change during an emergency.
The link to a document entitled, Disease Outbreak/Public Concern, is from the Federal Emergency Management Agency (FEMA). It is an overview of livestock disease outbreaks, their impacts and consequences. It also covers federal and state standard procedures for investigation of certain livestock diseases, public perceptions and provides a few case examples.
Tips for Building Your Plan:
Remember planning is a process. Start where you are now.
Implement a few important things first; add more later.
Determine what will or will not fit the daily routine.
Plan ahead with protocols that everyone on the farm and visitors will need to follow if an outbreak occurs.
Include a process for observing and monitoring herd health, and for reporting unusual or suspicious signs.
Be sure to communicate to employees and visitors about your biosecurity protocols, and how they can comply.
Biosecurity Plan Documents
Get started on building your farm biosecurity plan by downloading the documents below. It may seem somewhat daunting at first to read about all of the biosecurity steps recommended to protect your herd/flock. However, start with what you can do now and add on as you go.
Visit the Premises Map and Premises ID pages on this site for guidance on how to get a premises ID, and how to create a premises map for the plan.
Contact us if you have any questions about creating a biosecurity plan.
---
Content Sources for the Biosecurity Plan, Assessment and Crisis Communication Plan
---