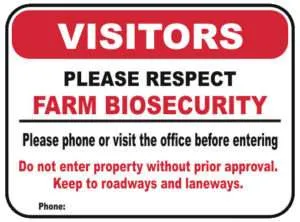 Biosecurity plans and procedures are important for minimizing the risks of introducing infectious agents/disease pathogens to a farm. Biosecurity can also be considered biological risk management.
On-farm security (also known as agrosecurity) addresses the intended as well as unintended introductions of disease pathogens to a farm, along with other security threats:
Unauthorized individuals near or around livestock or facilities.
Unusual number of sick or dead animals, birds or insects found on the premises.
Unusual powders or liquids found in undesignated areas.
Unexpected spraying, whether via aicraft, truck or hand-held.
Apparent loss or theft of equipment, pesticides, fertilizers, fuels, medicines or other potentially hazardous substances.
Unusual sickness among farm employees.
Signs of break-ins or tampering.
Questions to Consider
---
What areas or activities on your premises are vulnerable and should have increased security measures ?

How would you respond to threats or tampering with your animals, crops, equipment, chemicals, supplies, energy and water sources?

Do you have insurance coverage that protects against theft, vandalism, pesticide spills, and/or terrorist attacks?

Is your 911 emergency address posted and easily visible on your mailbox, or a post on the road?

Do your farm employees and family know what to do in case of an emergency?

Is there an up-to-date list of contact names and numbers in case you are away from the farm, or incapacitated during an emergency? Will your family or employees know where to find this list?

Do you have a permanently installed, well-hidden mailbox or lock box that serves as an emergency information box for emergency personnel to access? Do they know where it is located?

Do you have a farm map with the contents of each building listed?

Are pesticides and farm chemicals stored in one location? Are they secure? Do you have an inventory?

Have you asked your local fire department about visiting your farm for a safety and security check?

Do you have appropriate areas locked or gated? Are the locks, fences and gates in good condition? Do you regularly check them for tampering?

Is there lighting in areas that need extra security?
Farm Security Tips
---
---
---