What is a Crisis?
A crisis is any incident or event that interrupts the normal flow of business or threatens your ability to operate and has the potential to damage the brands of the customers to whom you sell your livestock. Not all situations are crises and not all crises are equal.
When a crisis occurs on your farm, it is essential that you:
Demonstrate your willingness to cooperate with officials and stakeholders.
Provide timely, accurate, and credible information regarding the situation.
Communicate accurately and effectively to all stakeholders.
Prepare employees beforehand by training them on how to respond during an animal health emergency.
Act quickly and appropriately in response to requests for information from the media.
Protect the name and reputation of your farm, and the brands of your customers.
Maintain employee, producer and customer confidence.
Crisis and Emergency Risk Lifecycle
Situation Analysis
Below are some questions you should be prepared to answer or can expect from emergency management professionals if they are involved.
What do you know for sure?
What do you know so far about the situation?
What are the details about your farm?
What is the ownership of the farm?
Do you have someone on staff to help with managing communications? Have they been contacted?
What do you believe to be the situation?
Do you know if the disease outbreak is reportable or a foreign animal disease?
Do you suspect agroterrorism activities?
Have there been any suspicious situations over the past six months?
Who is aware of the situation?
Has your ownership and staff been notified of the situation and reminded that the information should be kept confidential?
Is law enforcement involved?
Have you been contacted by any news media? If yes, how have you responded?
What is your relationship with local news media?
Does your business have a website or social media accounts that should be monitored?
Crisis Intensity
The intensity of the crisis dictates the response in terms of urgency, level of employee and outside involvement, and extensiveness of response. To help your farm's team categorize crisis intensity and respond appropriately, use the following severity ranking system:
How to Determine the Severity of a Crisis
Questions to ask yourself:
Have many animals died, or has there been a human death, serious illness or injury?
Does the situation require immediate notification of other stakeholders?
Does the situation require notification of external authorities or agencies?
Does the situation require immediate administrative or operations action, such as quarantine?
Is there a serious threat to human health?
Is animal well-being involved?
Is there a serious and immediate threat to your production practices?
Have there been inquiries from the media?
Is the situation potentially serious enough to overwhelm your ability to respond? Are more resources needed?
Crisis Communication Plan Template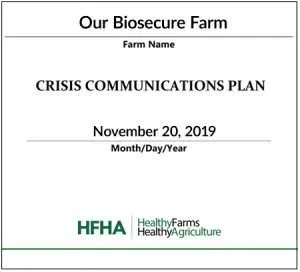 Continue learning about crisis communication planning by downloading this PDF template to create your own crisis communication plan. Append it to your farm biosecurity plan.
The template includes pages that can be duplicated in the PDF, or printed out to fill in information that you will need during an emergency.
---