Welcome to the biosecurity learning module series for youth in agriculture, which can also be adapted for post-secondary instruction.
The goal for this six-module series is to instill the importance and habit of biosecurity in young people, so that it will spread to adults and create a new culture of biosecure farms.
The modules are easy to follow, and they include many activities that help with remembering the information.
---
The modules should be viewed on a desktop computer, laptop or large tablet.

Find additional information and resources on each module's web page.

Include the SCRUB Curriculum as a complement to the biosecurity learning modules. The SCRUB activities link to STEM education by combining science with fun, hands-on activities.
How to Use the Learning Modules
For Learners and Leaders
Each learning module on the healthyagriculture.org website must be completed in one session. If the session is interrupted or ends before completing a module, the next time you will need to start at the beginning of the module again.
Create a Wisc-Online Account
If unsure about being able to complete a module in one session, create a FREE account at Wisc-Online. Wisc-Online is part of the Wisconsin Technical Colleges system and is maintained by Fox Valley Technical College. The Healthy Farms Healthy Agriculture Project has an agreement with them to host the biosecurity learning modules in their system for free public access.
With a Wisc-Online account, progress on each module can be stopped and started again where learners and leaders leave off.
Leaders and learners must create an account and log in to Wisc-Online so their progress is tracked and badges awarded for completing activities.
Guest access on Wisc-Online

will not

record any progress.
Scroll Down for Leader Information
Scroll down on this page for the learning module Leader Information including the teaching guide. These resources are not available on Wisc-Online.
Combine the SCRUB Curriculum
Include the SCRUB Curriculum (Science Creates Real Understanding of Biosecurity) as a complement to the biosecurity learning modules. SCRUB links to STEM education by combining science with fun, hands-on activities. The curriculum comes with an instructor guide and offers inexpensive hands-on activities.
Certificate Options
Certificate of Completion for Individual Modules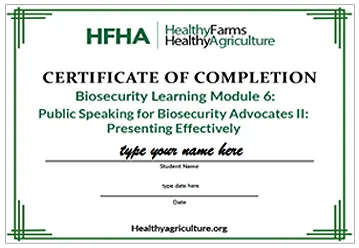 A certificate of completion is available at the end of each module. Learners can print it out, sign it, and hand it in as proof of completion.
Wisc-Online Certificate
Complete the modules as courses to receive certificates from Wisc-Online.
Biosecurity for Youth Caring for Livestock includes:

What is Biosecurity?
Biosecurity: Routes of Infection and Means of Transmission
Biosecurity Finding Sources of Disease Transmission Risk
Biosecurity Strategies

Public Speaking for Youth Biosecurity Advocates includes:

Public Speaking for Biosecurity Advocates I: Creating a Persuasive Presentation
Public Speaking for Biosecurity Advocates II: Presenting Effectively
HFHA Certificate of Achievement
The certificate of achievement can be used for club and group leaders guiding learners through the modules. Scroll down on this page to the Leader Information section, and look for the PDF link under the Teaching Resources tab.
After finishing, tell us what you are doing with your new knowledge. We'd love to hear from you now and six and 12 months from now!
Leader Information for All Modules
Guiding Teaching Philosophy: Discovery Learning
Discovery learning means that learners are presented with questions or tasks to complete to which they probably don't know the answers. They are given supplemental information to inform their answers and then make their best guesses.
Learners are not penalized for incorrect answers and are given immediate feedback as they progress through the pages of the modules. This helps learners interact with and think about the content instead of just scanning it.
The modules also introduce scientific terms to learners. They aren't expected to know terms and diseases in advance. Activities have hints and explanations to help learners complete them. The goal of the modules is NOT to create veterinarians, but instead to create more knowledgeable individuals and advocates for biosecure agricultural communities.
Technology Requirements
The learning modules require a desktop Mac or PC computer/laptop to view and interact with. The modules were not designed to be viewed on mobile devices.
The modules will not expand to full screen. Use the web browser zoom-in or out options to enlarge or reduce the screen size, and click the F11 keyboard button to remove the browser navigation bar at the top of the screen.
Also, it is recommend that a printer be available to print worksheets and summaries. This is especially true for the final module where learners will be creating their own presentations.
Overview of the Series

Grades
3-5
Grades
6 -8
Grades
9-12
Grades
>12

Module 1 - What is Animal Biosecurity?

The first module introduces the concept of biosecurity: what it means; why it's important; how a disease agent, the host, and the environment all contribute to the development of disease; and that we might be able to prevent the spread of diseases by altering one or all of these three factors.

With leader/
teacher
X
X
X

Module 2 - Biosecurity: Routes of Infection and Means of Transmission

The second module explores the various routes of infection and ways diseases can be transmitted between animals and animals, and animals and humans.

With leader/
teacher
X
X
X

Module 3 - Biosecurity: Finding Sources of Disease Transmission Risk

The third module puts the learner in the role of a "Biosecurity Inspector" whose job it is to tour a dairy farm and create a report of the potential sources of disease transmission they find.  While going to different areas on the farm, learners are introduced to the different types of disease transmission sources.

With leader/
teacher
X
X
X

Module 4 - Biosecurity Strategies

The fourth module has the learner as Biosecurity Inspector creating a biosecurity management plan by identifying strategies to decrease the risks of disease transmission previously found on the farm and recommending the most cost effective.

With leader/
teacher
X
X
X

Module 5 - Public Speaking for Biosecurity Advocates I: Creating a Persuasive Presentation

This module follows "Charley" as she creates a presentation, including evaluating her sources, with the learner simultaneously creating their own.

With leader/
teacher
X
X
X

Module 6 - Public Speaking for Biosecurity Advocates II: Presenting Effectively

In this final module learners are coached, along with Charley, in how to use verbal and non-verbal communication techniques to deliver a dynamic and persuasive speech.

With leader/
teacher
X
X
X