By the end of this module you will be able to:
Identify actions that can reduce biosecurity risk.
Develop a biosecurity action plan for a farm.
Select the most cost effective strategies
How to use this module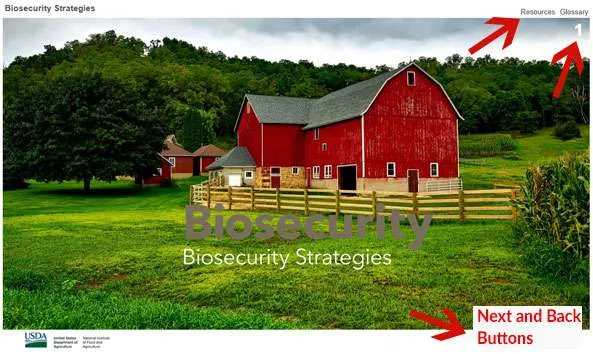 There are no scrollbars like in Module 1. Click on the Next and Back links in the bottom right corner of the module to move forward and back.
The "pages" in this module are numbered. Look in the top right corner for the page number.
There are activities on some of the pages that might ask you to type in an answer, rearrange words, listen to stories and more. You will need to complete the activity before moving to the next page.
Click the Glossary link in the top right corner of the module to read the definitions for biosecurity terms used in this lesson.
---